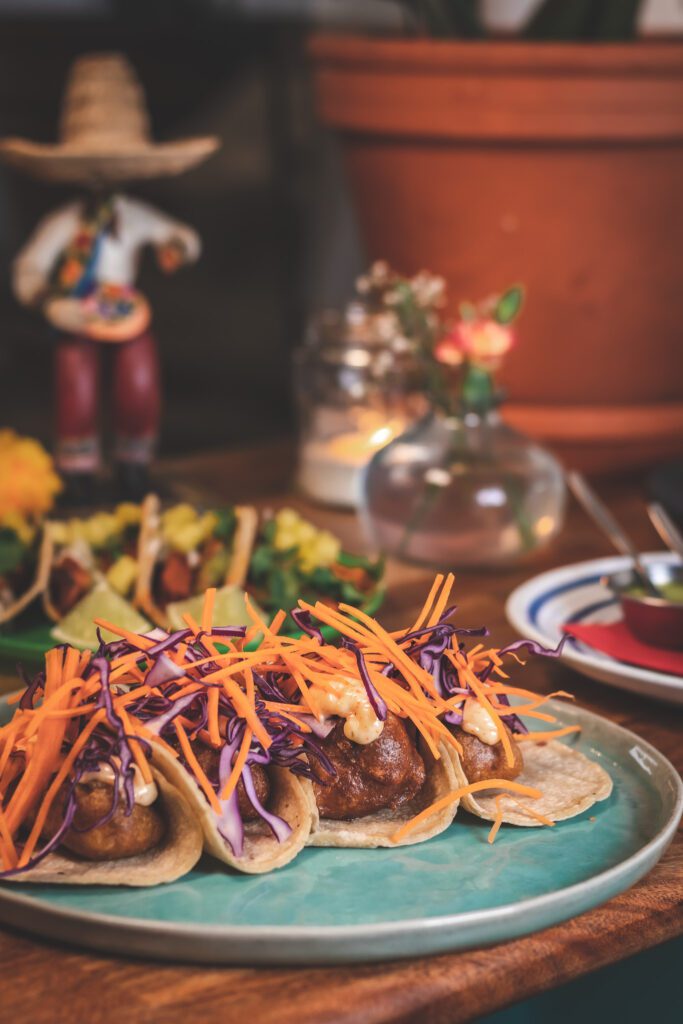 Tasting Menu "EL REY" 49
I. Elotito / II. Guacamole / III. Quesadilla de Hongos / IV. Ceviche
V. Taco de pescado / VI. Taco de bistec / VIII. Postre
*Served only for the whole party

Matching Drinks / 37
House Margarita / La Falaise Blanche Chardonnay, Languedoc-Roussillon, France /
Azul y Garanza Bodegas Arena, Navarra, Espanja /
Tequila Añejo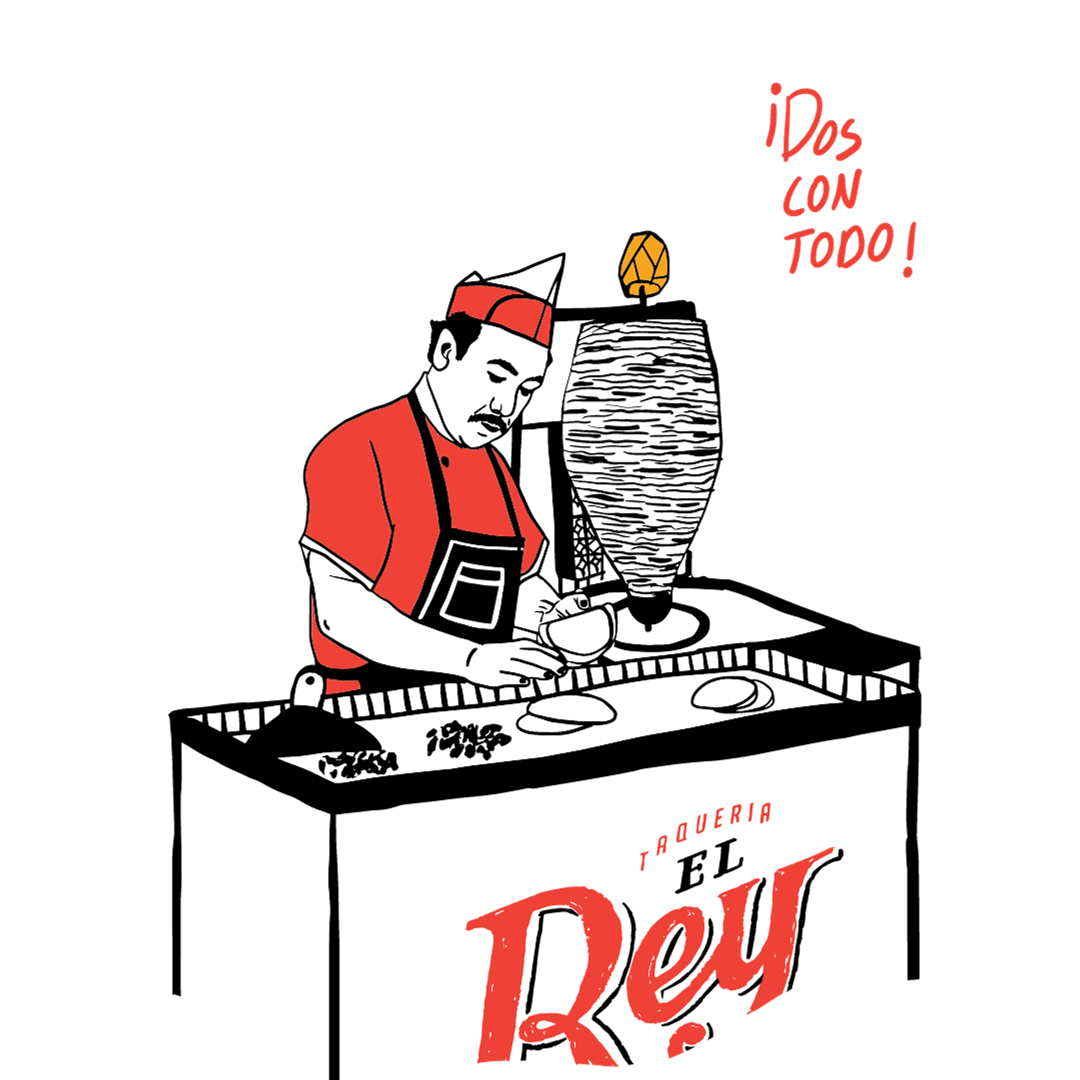 Starters & snacks
GUACAMOLE 13
Avocado, tomato, onion, coriander, chili & lime. Served with homemade totopos.
*VGAN *GF *LF
TACO DORADOS 10
Three small crispy tacos stuffed with mashed potatoes, topped with hot tomatillo salsa, fresh lettuce, crème fraîche, queso fresco & coriander.
*V *GF *LF *VGAN available
CAMARÓN GOBERNADOR 13
Four tiger prawns breaded & topped with lime mayo, pico de gallo & greens. *LF
CEVICHE DE PULPO & CAMARÓN 13,90
Octopus & tiger shrimps infused in lime & habanero chilli, mixed cucumber, tomatoes & coriander. Served with tostadas. *GF *LF

CEVICHE DE COCO 12,50
Fresh young coconut infused in lime, habanero chilli, coconut milk & seaweed, mixed with onion, coriander & zucchini. Served with homemade totopos.. *VGAN *GF *LF

PICO DE GALLO 4,5
BEANS 3,5
EXTRA CHIPS 2,5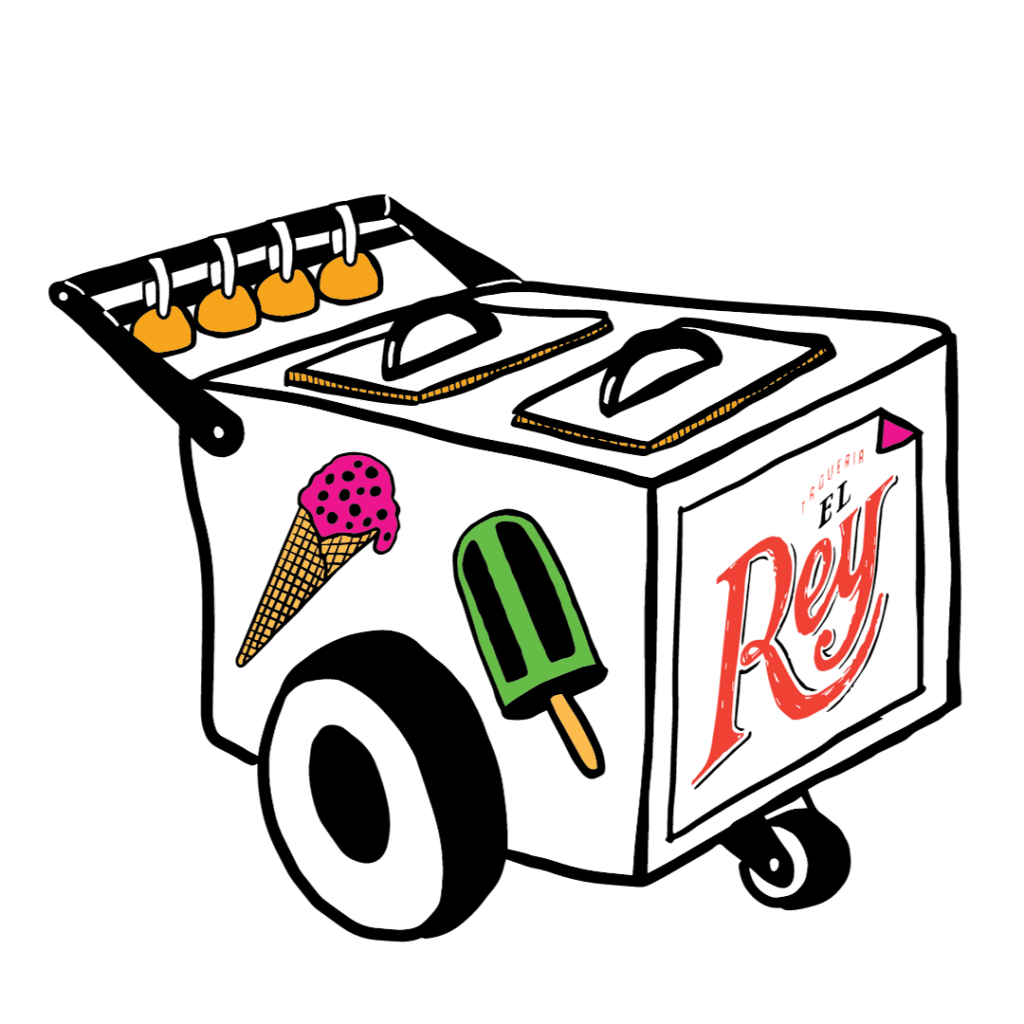 Tacos & Enfrijoladas
PESCADO CAPEADO 20
El Rey classic! Four crispy fish tacos Baja style, served with spicy mayo, red cabbage & carrot. We recommend pairing it with our hot "Sinaloa Salsa". *LF
BIRRIA AKA QUESABIRRIA! 20
"Thank God for birria." From Jalisco & made with El Rey secret recipe. Three crispy tacos made with slow cooked beef, grilled cheese. Served with a side of rich & flavourful consomé for dipping. *GF *LF
BISTECK CON QUESO 22
Four tacos made with Finnish sirloin steak, grilled cheese, caramelized onions, jalapeño, pico de gallo & coriander. *GF *LF
CARNITAS 20
Michoacán is in da house! Four slowly cooked & roasted Finnish pork belly tacos topped with coriander, onion & red radish. *GF *LF
TACOS AL PASTOR VEGANO 20
Like in the streets of Mexico City but with a vegan twist, four tacos of grilled soya marinated with guajillo chili, topped with pineapple, coriander & onion. *VGAN *GF *LF

ENFRIJOLADAS 22
Three soft corn tortillas filled with tender chicken, topped with chipotle & beans salsa, avocado, crème fraîche, queso fresco, red onion & coriander *GF *LF *VGAN available
TACO DE NOPAL 20
Four cactus tacos topped with, beans, grilled cheese, crème fraîche, queso fresco, coriander & onion.
*V *GF *Vegan available
Desserts
PAN DE ELOTE & CAJETA 8
Sweet & warm cornbread served with Mexican cajeta ice cream.
NIEVE DEL DÍA 6
Mexican sorbet made from the freshest and most tropical ingredients.
Ask the our staff the flavour of the day. *VGAN *GF *LF
FLAN 7
Mexican cream caramel custard served with raspberry sorbet.
COFFEE & TEA
Espresso single 3,5
Espresso double 7
Cappuccino 5,5
Latte 7
Organic tea 4
(Ask our staff for flavours)
COCKTAILS
HOUSE MARGARITA 13,50
Elemental 100% Agave, Cointreau, lime & homemade hibiscus syrup.
"Ask your host for Margarita Traditional or our Autumn Vanilla Margarita if you're not in the mood for Hibiscus."
PALOMA 13,50
Tequila, Cointreau, agave nectar, lime & Mexican artisan grapefruit soda.
"Ask your host for our Mezcal version."
EL DIABLITO 13,50
100% Agave Tequila infused with Jalapeño chili, crème de cassis, lime & ginger beer over frappe ice.
SMOKY MEZCAL 13,50
Mezcal espadín infused in rosemary, elderflower liquor & tamarind
WHISKY SOUR 14
Mexican "Abasolo" whisky, Amaro, lemon & fee foam. *VGAN
"If Whisky is not your cup of tea., ask for a Pisco Sour, we have the best ones!."
MEZCAL NEGRONI 14
A classic with an Oaxaca twist. Mezcal Espadín, Del Professore Vermouth & bitters
COCKTAILS
HORCHATA COLADA 14
Homemade rice horchata, Mexican Rum, pineapple & lime.
MOJITO DE LA PASION 14
Elemental Rum, lime, Mexican artisan passion fruit soda & mint.
"Feel free to order a classic mojito."
MICHELADA "EL REY" 13,50
Mexican beer, lime, shrimps, salsa valentina & tajín chili.
"If you are not in the mood for alcohol, ask for a virgin version with Corona Zero"
AUTUMN SPECIALS
MEXICAN PONCHE 15
One of the most traditional Mexican winter drinks. Served hot con piquete! Vermutti, Elemental Rum & seasonal fruits.
AY CARAJILLO! 13
43 liquor, Mexican coffee from Veracruz. Served hot over Ice.
DUENDE VERDE 14
Chartreause Verte, cucumber, lime & El Rey cucumber lemonade.
MOCKTAILS & AGUAS FRESCAS
PALOMA VIRGEN 11
Seedlip Spiced 94, Mexican grapefruit soda, lime & tajin chili
MOJITO DE LA PASIÓN VIRGEN 10
We skip the rum today! Lime, mint & Mexican artisan passion fruit soda
AGUA DE JAMAICA 8
Home made Hibiscus, Aztec chia, lemon & mint
AGUA DE HORCHATA 8
Home-made rice horchata & cinnamon
AGUA DE TAMARINDO 8
Home Made Tamarind, Aztec chia, lemon & mint
El Rey Cucumber lemonade 5
Mexican artisan VELVET SODA 5
Maracuya, Grapefruit, Tangerine, Peach
Coca-Cola, Coca Zero (0,25l) 5
Thomas Henry Ginger Beer 5,5
Sparkling water (1l) 2,5

BEERS & CIDERS
Corona (MX) / 8
San Miguel Lager / 8
Estrella Damm. / 8
Estrella Damm Lemon / 8

Galipette Cidre BRUT (FRA) / 8

Galipette Cidre 0% / 7,5
Corona Zero 0% / 7


EL REY MERCH
El Rey Tote Bag / 100% Recycled cotton 12
WINES
BUBBLES
La Chouette de Champillon, Blanc de Noirs Brut NV, Champagne, France (Vegan) 99
Maset, Cava Nu Reserva Brut, La Granada, Spain (Organic, Vegan) 10 / 59
Alta Alella Cava Salva Tu Alma Brut Nature, Katalonia, Espanja (Organic, Vegan) / 62
Entre Vinyes Oníric, Orinoc PET-NAT, L'Arboc, Spain (Organic, Natural, Vegan) 60
ROSÉ
Pierrick Harang Le Petit Balthazar Cinsault Rosé, Languedoc-Roussillon, France. (Vegan) 8 / 10 / 47
Filipa Pato, 3B Rosé Extra Brut NV, Bairrada, Portugal (Vegan) 66


SIN ALCOHOL (0%)
Shelter Winery, Lovely Lilly Zero, Baden, Germany (weisser traubensaft) 36
WINES
BLANCOS
House Blanco 7 / 9 / 39 | Garrafa 25cl / 15
Amo.Te D.O.C Vinho Verde Branco, Portugal 8 / 10 / 47
Reichsrat von Buhl, Bone Dry Riesling, Pflaz, Germany 10 / 12,5 / 59
La Falaise Blanche Chardonnay, Languedoc-Roussillon, France 8,5 / 10,5 / 49 Vegan
Contra Soarda, Bassanoshiro Bianco 2017, Veneto, Italy 59
Organic, Vegan
Azul y Garanza Bodegas, Naturaleza Salvaje Garnacha Blanca 2018, Navarra, Spain 79
Organic, Natural, Vegan
ROJOS
House Rojo 7 / 9 / 39 | Garráfa 25cl / 15
Azul y Garanza Bodegas, Arena, Navarra, Spain 9 / 12 / 55 Organic, Vegan
Demuerte One, D.O. Yecla, Spain 11 / 14 / 65
Altos Las Hormigas, Malbec Clásico 2018, Mendoza, Argentina / 58 Vegan
Château Daviaud, Bordeaux Rouge 2019, France / 69
VignaLuce, VignaLucis Ejus Morellino di Scansano, Toscana Italy / 78